Welcome to Johnson Family Dentistry in Devils Lake, ND
Dr. Andrews knows the importance of a great smile. That's why our office, located in Devils Lake, ND is committed to providing the highest quality and best service in dental care. Johnson Family Dentistry is an excellent option for your dental needs!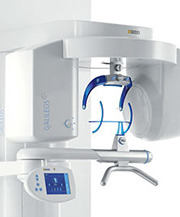 GALILEOS 3-D Imaging
System
Dr. Andrews is the only dentist in town with a GALILEOS 3-D Imaging System. X-rays have entered a whole new dimension with the GALILEOS 3-D imaging system. One of the reasons why patients love GALILEOS is because 3-D imaging capability translates into more precise, more natural-looking dental restorations.